Welcome to EtchedGlass.net , a division of Signs Visual Corp. We produce a wide variety of frosted glass graphics and etched glass logo decals for office windows, office glass doors, storefront windows, conference room glass, transom glass, and more.
Frosted Glass Graphics and Patterns | Etched Glass Film Vinyl | 3M Dusted Crystal + Etchmark Frosted Privacy Vinyl Coverings, Bandings, Stripes, Blockouts, Logos | Glass Door Frosting | Conference Room Glass Etching | Frosted Film Distraction Marking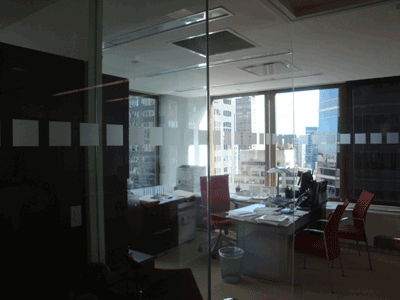 Signs Visual is a glass frosting company based in NYC and a leading supplier and professional installer of frosted film and window film graphics for corporate glass environments in New York. We customize etch vinyl logo decals for office glass doors, conference rooms, glass partitions, and glass windows. We also custom design and produce highly durable frosted films and etch-look glass vinyl graphics for privacy banding or distraction marking onto interior office glass and corporate lobby glass entrances and reception glass walls as well as office windows and door transoms. Signs Visual has 25 years of experience in project management of your office glass branding projects. Our special techniques and manufacturing methods yield very high quality results and precise reproductions of your corporate logo branding in frosted films and etched glass vinyl productions. Our frosted privacy window film decals mimic the look of actual sandblasting of glass at the fraction of the cost. We can cut out any design, lettering, typeface, logo, graphic or artwork and apply these frosted graphic decals onto your office glass in relatively quick turnaround time. Whether it is a single office room or door, or an entire floor of glass partitioning and glass paneling, we can work out a cost effective program and execute your branding vision with ease and precision. Our frosted window films have either a dusted / sandblasted finish or a frosted sparkle finish. These etch glass films can be applied 1st surface (front side) or 2nd surface (back side) onto the glass. We carry a variety of frosted films / etch glass vinyls including: 3M Dusted Crystal, Avery Etchmark and 3M Fasara films. We also provide other high quality window decal film colors and finishes. Contact us for a free consultation on your next frosted office glass installation project in New York City. See below for contact details.
---
Tel. (212) 945-8706 | Tel. (646) 240-5724 | Fax. (646) 530-8752 | E-mail: info@signsvisual.com | E-mail: sales@signsvisual.com | Web: www.signsvisual.com